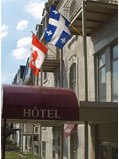 Hotel Elegant welcomes you!
Hotel Elegant cherishes serving and satisfying our customers. The convenience of our hote makes our customers indulge in a friendly environment where one can enjoy the surroundings, or just relax in our comforting hotel. It is truly an elegant place for you and your family to enjoy!
Walking distance to Old Montreal, Old Port, Latin Quaters, Chinatown, The Village, Metro, Bus Terminal, Eaton center and restaurants...
Hotel Elegant features:
Modern Design
Air-conditioned Rooms
Private Bathroom
Free Wireless Internet
Free Local Phone Calls
Free Continental Breakfast
Parking ($)

Free Continental Breakfast
Conveniently Located in Montreal
Friendly Atmosphere
Located in Downtown Montreal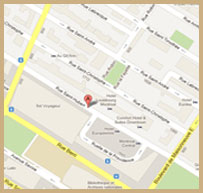 1683 Rue Saint-Hubert, Montreal, Quebec, H2L 2Z1